Volcanic eruption: a new chronometer based on the diffusion of titanium in quartz
The process by which volcanic eruptions are triggered is still unpredictable. In order to assess the residence time of the magma in the chamber until the eruption, the international team, including scientists from CNRS-INSU, has used a clever method to establish the speed of diffusion of titanium (Ti) in natural quartz. The method involves dating the zircon micro-inclusions with very high precision and measuring the Ti micro-profiles in the quartz using cathodoluminescence imaging. This revolutionary new chronometer is based on analyses of the quartz in the volcanic pumice from Mount Pinatubo, Philippines, which erupted in 1991.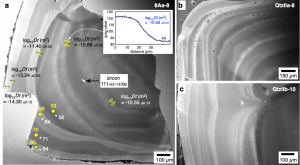 Read more on the INSU website.
GET contact: Anastassia Borisova