Coordinators: Jeroen SONKE & Jonathan PRUNIER
Missions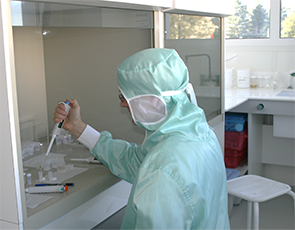 The Geochemistry and Experimentation department gathers a set of human power, instrumental, and analytical means allowing support to research projects in geochemistry. The department hosts the production of experimental samples, the treatment of all types of samples (natural or experimental, solid or liquid) to allow their analysis in elementary concentrations (from ultra-trace to major) and/or isotopic analysis (stable, radiogenic…), even in additional dimensions by coupling (speciation, in-situ…).
Services and platforms
Chemical Analyses
Carole Causserand & Stéphane Audry
---
Missions: Chemical analysis of a wide range of samples (natural waters; experimental solutions and rock digestion; soils, rocks and suspended solids), drafting of analysis protocols for each technique, development of analytical methods, training of users, processing of data produced.
Equipment: ICP-OES, SAA flame, SAA oven, Alkalinity titrator, Ion chromatograph, Dissolved carbon analyzer, Colorimetric chain
Clean room
Manuel Henry & Valérie Chavagnac
---
Missions: To carry out the solution of natural or synthetic samples of various natures (soils, sediments, rocks, plants, fluids, etc…) and their purification in order to carry out multi-element and isotopic measurements.
Equipment: vertical laminar flow hoods, chemical extraction hoods, evaporation stations with heating plate, distillation station for purification of concentrated inorganic acids
ICPMS
Jérôme Chmeleff & Mathieu Benoit
---
Missions: To allow the measurement of trace element concentrations, ultratraces and isotopes by plasma source mass spectrometry in all types of samples in liquid or in coupling (laser ablation for in-situ measurement, GC for speciation, desolvation…).
Equipment: HR-MC-ICPMS, HR-ICPMS, Triple Quad ICPMS, IR and UV femtosecond laser ablation and nanosecond, GC, desolvators
TIMS
Stéphanie Mandrou & Mathieu Benoit
---
Missions: Isotopic measurement in all matrices (ocean, rocks, sediments, ice). The isotopes measured are: Strontium, Neodymium, Lithium, Lead, Thorium, Uranium, …
Equipment: One TIMS, 2 branded vacuum degassers, laminar flow hoods, One filament deposition bench, One welding station
GC-IRMS
Christelle Lagane & David Point
---
Missions: Analyze of light isotopes contained in biogenic and anthropogenic organic and organometallic molecules present at trace levels in the environment. Applications in the fields of biogeosciences, organic matter cycle, greenhouse gases, contaminants, life cycle and sources of plastic compounds.
Equipments: IPurge and Trap, GC and IRMS
Datations
Sandrine Choy, Stéphanie Brichau & Vincent Regard
---
Missions: Preparation and dating of rocks by cosmogenic isotopes, (U-Th-Sm)/He, fission tracks and U-Pb
Equipment: polisher, binoculars reflected light, 2 high magnification microscopes (x1250), helium extraction line, sieving equipment, 2 fume cupboards (one dedicated to HF), plate shaker, hot plate, small consumables and materials
Mercury
Laure Laffont & Jeroen Sonke
---
Missions: To analyze the concentration of total mercury, its speciation and stable isotopes in natural samples from various compartments (water, soil, plants, biological tissues).
Equipment: AFS (Atomic Fluorescence Spectrometry), AAS combustion, lines of combustion furnaces, photochemical reactor, fume cupboard, and laminar flow hood
Experimental mineralogy & geochemistry
Alain Castillo & Pascale Bénézeth
---
Missions: To provide logistical support to researchers practicing experimental geochemistry and mineralogy and to facilitate the development of new techniques (in situ Raman, Infra-red, UV-visible spectroscopy, potentiometry at hydrothermal conditions, HP and HT experiments)
Equipment: reactors (≠ techniques, sampling/circulation…), ≠ materials (Ti/Au/Teflon…), ≠ temperatures and pressures; potentiometric cells (H-electrodes/diamond anvils); large-volume synthesis ovens/geochemistry/mineralogy preparation rooms; reactive percolation; surface and interface characterization and quantification instrumentation; pH stat/DIC analyzer